Swimming With The Turtles In Akumal I 2023 ULTIMATE Guide
Swimming with wild seaturtles at Akumal Beach was one of the most amazing things I did in Mexico!
Keep reading for how to spend a PERFECT 24 hours in Akumal, Mexico: including what to do, where to stay, and where to eat.
All About Akumal
Akumal is a coastal resort town between Tulum and Playa del Carmen on the Mayan Riviera; it's about a half-hour drive from Tulum, a half-hour from Playa del Carmen, and an hour and a half from Cancun.
Akumal is famous for its private beach that has an abundance of sea turtles – in order to protect the species, it's illegal to swim at Akumal beach without a tour guide.
🐢 The best time to see the turtles in Akumal is Nov-May. The Mayan Riviera is a very seasonal destination.
---
How to get to Akumal
How to get to Akumal from Tulum or Playa del Carmen
If you're coming from Tulum or Playa del Carmen the best way to get to Akumal is by Colectivo.
A Colectivo is a type of mini-bus common in Mexico – Akumal is equidistant from Tulum and Playa del Carmen so it should be a half-hour drive and 35 pesos from either location.
If you're coming from Playa via Colectivo:
Tulum: Colectivos depart outside the Ado Bus Station and outside the 7/11 on the main street (Highway 307) in Tulum.
They leave every 20 minutes or so between 5 AM and 11 PM (ending early on Sundays at 7 PM).
You will be dropped off on the side of the highway where the Akumal bus station is, all you need to do is walk inwards and you'll reach Akumal Beach.
Note: If you want to take a Colectivo BACK to Tulum you'll have to cross Highway 307 via an overpass and get picked up on the side of the highway going towards Tulum.
From Playa del Carmen: You will find Colectivos from a variety of different companies on Calle 2 Norte between Av. 15 and 20 in Playa Del Carmen.
Here's an address for one of the Colectivo companies: Address: 50 Avenida Norte, C. 1 Sur &, Centro, 77710 Playa del Carmen, Q.R., Mexico.
Note: When coming from Playa del Carmen you'll have to cross the highway to get to Akumal – The Colectivo will drop you off next to the overpass with a walkway.
Taxi: You also could take a private taxi – it should cost around $20 US (400 pesos) on way to go from Akumal to Tulum or Playa. There's unfortunately no uber in this area.
How to Get to Akumal from Cancun
Via Colectivo & Bus: It's about an hour and a half to get to Akumal from Cancun.
You could either take a Colectivo to Playa del Carmen and then transfer to another Colectivo to take you to Akumal, or you can take the Ado bus via the Cancun-Chetumal route which runs 5 times a day.
This route isn't listed online so you will have to book it through your local Ado station, or pay for the full ticket to Chetumal and ask your bus driver to drop you off along the way.
If you want to pre-plan your trip, I recommend booking your ADO bus to Chetumal through Busbud.com, because it accepts non-Mexican cards.
👉 I always book my bus trips ahead of time with Busbud.com because they accept international credit cards. 👈
Note: Like with Playa del Carmen, you're going to have to cross the highway via an overpass if you come from Cancun via bus or Colectivo.
Via Taxi: You could also hire a taxi from Cancun, for an hour and a half it will probably be around $70 US each way.
There are usually taxis in front of the Lagoon in Akumal and in front of Akumal Beach so you wouldn't have to worry about getting a taxi back, but taxis in the Mayan Riviera usually don't take card and you'd need to have enough cash for both ways available.
Driving: From anywhere in the Mayan Riviera you could also rent a car (or take a scooter) and drive yourself, the parking fee at Akumal is 50 pesos ($2.50).
If you're driving yourself the address for the beach is: Carretera Federal Cancun-Chetumal Km.104, Yodzonot, 77760 Akumal, Q.R.,
Taking a tour to Akumal
You could also pay a little bit more to take a tour that includes pickup and dropoff – these tours usually include a local cenote visit as well as a buffet lunch.
I'm linking some all-inclusive tours I recommend below!
Tip: If you just want to take the Colectivo in from Tulum/Playa and swim with the turtles your whole trip to Akumal will total under $30
Best tours to visit Akumal & Swim With the Turtles
👉 Book this tour which includes swimming with the turtles, a visit to a cenote, and round-trip transportation to your hotel by clicking here.
👉 Click here to book this half-day tour which includes snacks, snorkeling with the seaturtles, round-trip transportation from your hotel, a bi-lingual guide, and a trip to a cenote.
---
How much does it cost to swim with the turtles in Akumal
Akumal Beach is private – meaning you'll have to pay to enter whether you want to swim with the famous turtles or not.
Once you get to the beach you'll see there are special roped-off areas for people who only paid the fee to enter the beach, and there's a separate corridor roped off where guides take people to see the turtles.
Cost to only enter Akumal Beach: 120 Pesos ($6)
Cost for the tour to swim with the turtles: 500 pesos ($25)
If you buy the tour to swim with the turtles it also includes entry to the beach and Snorkel, lifevest, flippers, and locker rental.
If you're getting dropped off directly at the beach you can also book a tour guide there – the price should be the same no matter where you book it.
Note: The price is 500 pesos per person not per tour guide.
---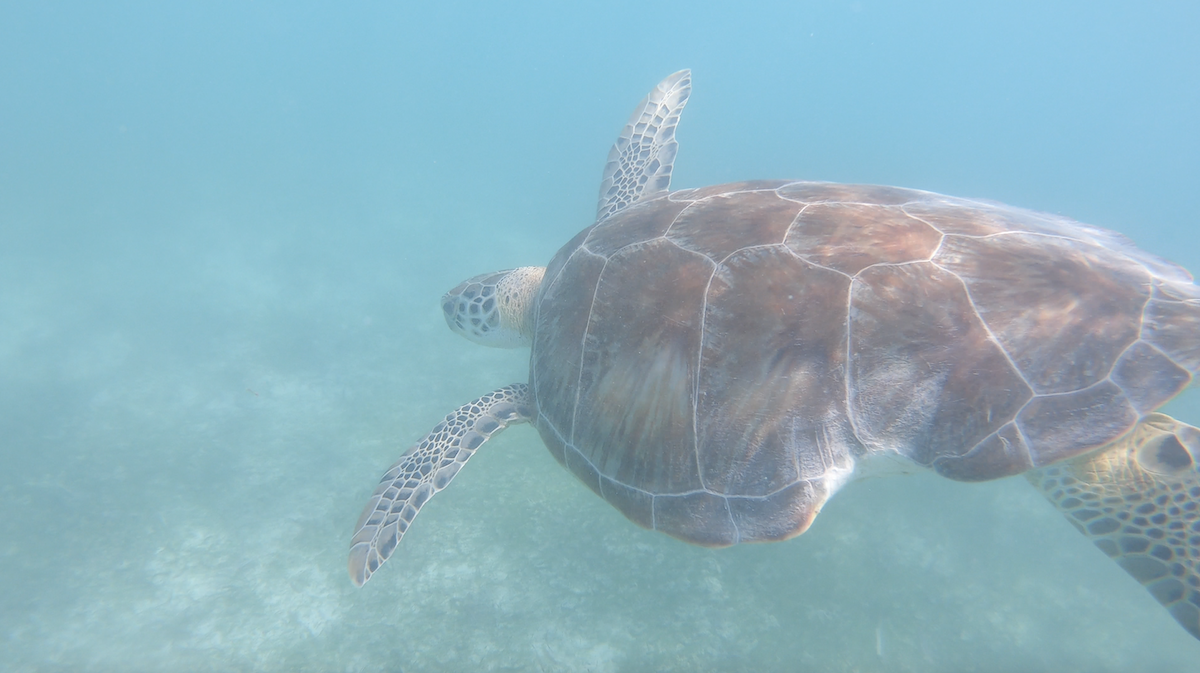 ---
My experience at Akumal Beach
Akumal beach is gorgeous but if I had just gone for the general areas I would have been a bit disappointed.
There are very few places people can swim on this private beach without a guide, and the seaweed when I went was clogging up the shores (they don't seem to clean the Sargassum seaweed at Akumal beach, even though it's a private beach).
After you don your flippers and snorkel you're invited to change in the bathrooms and also put your valuables in lockers that are provided.
I had thought this was a boat tour, but the snorkeling area is close enough to the shore the tour is swimming only.
The snorkeling area is roped off and it's kinda like a long corridor compromising a few hundred meters of the sea where it's never more than 10 ft deep.
Once you reach the end there's a sunken Spanish canon, and then you turn back before the ocean becomes deep.
I saw families and kids on the tour with us, the corridor is narrow and there wasn't much room so definitely try to go early on a weekday if you have the option in order to avoid crowds.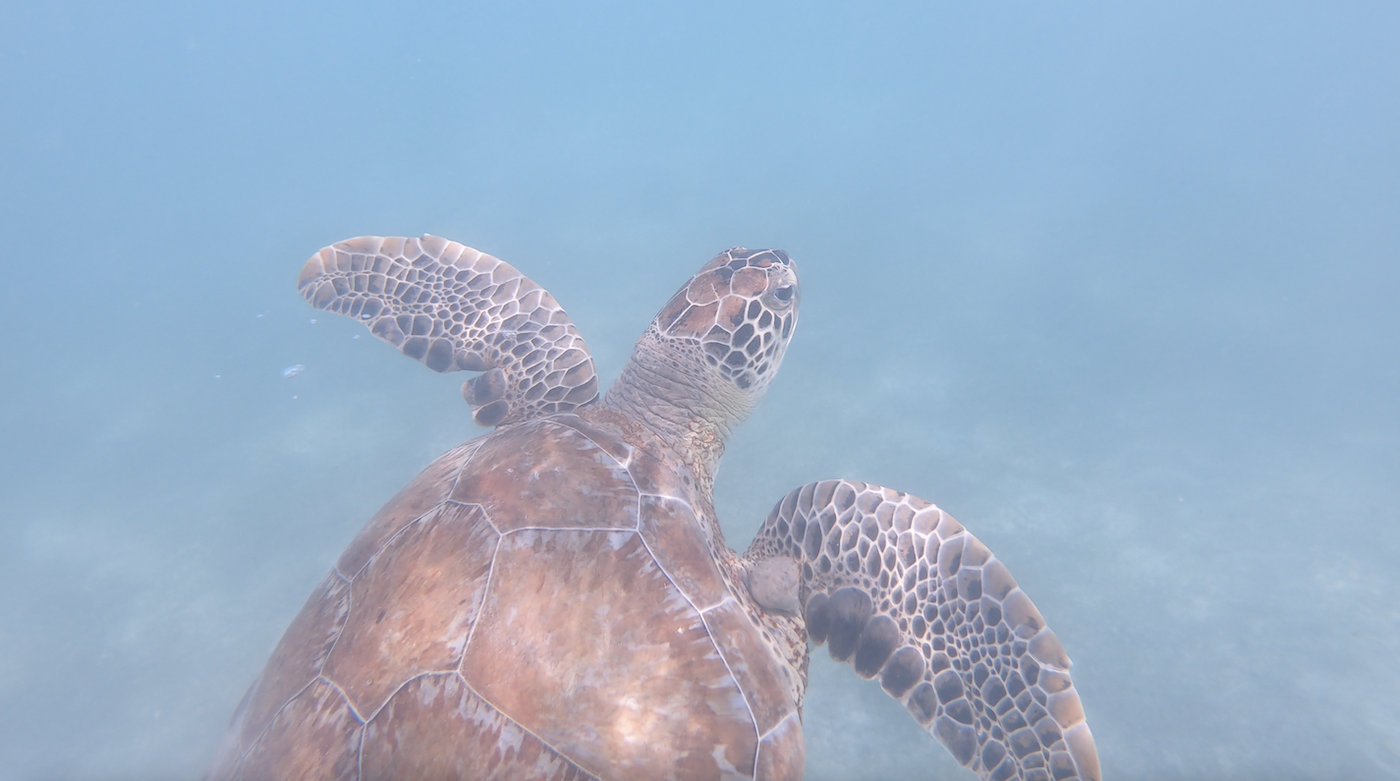 You don't need to be a strong swimmer to do this tour because you're wearing flippers and a life vest the whole time.
Because the ocean floor is never more than 10 feet away, Akumal Beach is perfect for snorkeling.
The turtles at Akumal like to eat the seagrass that grows on the ocean floor; so you can watch them go about their business with a perfect view without disturbing them.
How much time to spend there: The tour shouldn't take more than two hours, tops – which gives you time to go to the other attractions in Akumal listed below.
---
---
How to visit Akumal Lagoon, also called Laguna Yalku
Laguna Yalku, also called Akumal Lagoon, is the other main tourist attraction in Akumal. It's a freshwater lagoon that's essentially a giant cenote without a roof.
You can walk there from Akumal Beach, it's about a 20-minute walk but there's very little shade, or you can take a taxi – which shouldn't be more than 150 pesos max ($7).
Akumal Lagoon is gorgeous! There's no seaweed because it's freshwater, so if you're in Mayan Riviera in the warmer months (May-November) when the sargassum seaweed blooms, I highly recommend checking it out.
How much does it cost to go to Akumal Lagoon
Laguna Yalku is a bit pricey compared to other attractions in the area; adult entry is 330 pesos ($17) and then they charge more than double that for the mask, fin, locker, towel, and life jacket rentals. There's a wide variety of fish you can see in the lagoon so if you're on a budget I'd recommend bringing your own snorkel set and towel!
Information about Laguna Yalku
Address: Calle Acceso Etapa H Lote 5 Akumal Norte, 77776 Akumal, Q.R., Mexico
Hours: 9 AM – 5 PM every day
How much time to spend at Laguna Yalku
I would say at least 3 hours – probably more like 5. Laguna Yalku is a place I could lounge about all day with a good book and never get bored of.
---
Where to stay in Akumal: Best Akumal hotels
Akumal might be tiny but it's home to some amazing hotels right on the beach.
Best Luxury Hotels in Akumal
👉 Secrets Riviera Maya is a luxury 5-star adults-only all-inclusive resort. Click here to book!!
👉 Bahia Principe Akumal is one of the world-famous Bahia Principe 5-star all-inclusive resorts in Mexico. Book here for a luxurious trip to Akumal.
Best Budget Hotels in Akumal
👉 Las Villas Akumal was voted the Best Value hotel in Akumal by Tripadvisor – click here to book your trip!
👉 Del Sol Beachfront Hotel is one of the cheapest beachfront hotels on the Mayan Riviera. Wake up to the ocean for less than $100 per night by clicking here!
Where To Eat In Akumal
La Buena Visa Treehouse Cafe
La Buena Vida restaurant was one of my favorite finds in Akumal! It's right on the water and has a bunch of fun seating arrangements.
You can actually climb up a tree (like we did) and have drinks lifted up to you via a bucket and pulley – or you can lounge about on swings and hammocks and drink out of a coconut. I would go back to Akumal just to have a fun night out at this funky cafe!
Address: North Beach Road Lt 35 North, 77710 Akumal, Q.R., Mexico
Hours: 1PM – 9 PM every day
How much time to spend there: as much as you'd like!
---
My Perfect Akumal One-Day Itinerary
9 AM – Colectivo to Akumal
9:30 AM – 11:30 AM – Akumal Beach snorkel tour
11:30 AM – 12:30 PM – Lunch at Akumal Beach
1 PM – 5 PM – Laguna Yalku
5 PM – 8 PM – A nice long dinner (with lots of drinks) at La Buena Vida
8 PM – 9 PM – Colectivo back to Tulum or Playa OR stay overnight in Akumal at one of the hotels mentioned above.
Planning a trip to Mexico? Keep reading for everything you need to plan the perfect trip:
📍Like this? Pin it for Later